Welcome to CKD Culinary Consulting.


Creator, Owner, and Publisher of The How to Eat for CKD Method™ Program
REAL CKD Eating™
Linda is blowing the doors wide open on REAL CKD Eating!™
She offers the TOP Coaching and Consulting Program for learning how to safely, easily... really eat for CKD!
.
Going beyond lists and recipes, Linda is showing patients how to build their customized meal plan and start them on a kidney diet they can stick to for life!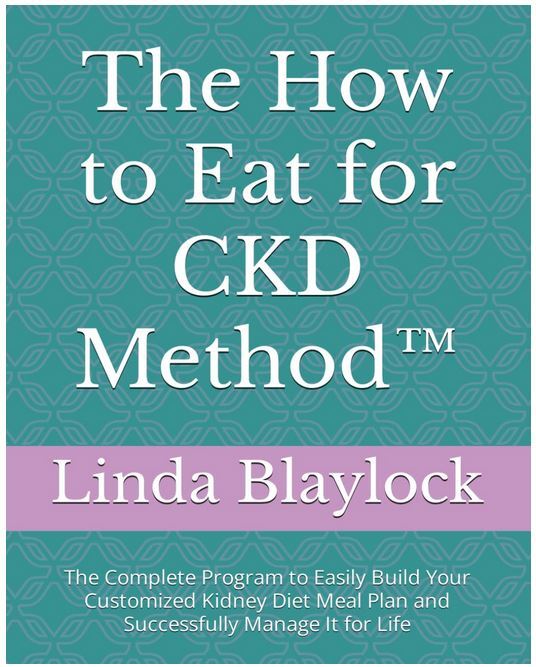 Hippocrates said, "Let food be thy medicine and medicine by thy food."
Nothing is truer than for chronic kidney disease. The primary treatment is diet, specifically reducing amounts of sodium, potassium, phosphorus, often protein and carbs, and if late stage or on dialysis, fluids are restricted as well.
This presents an immeasurable challenge for patients, and they complain that they do not receive the help they need from the medical community, and the one resource that should be helping, dieticians, are often out of reach, either by monetary, or geographic issues.
Having journeyed this road, Linda has the inside track on the full amount of information and processes needed to navigate through this extremely confusing and hard to understand diet. Kidney patients benefit in numerous ways, and the top question is resolved quickly – "What can I eat?"
Her clients are raving, and their labs are showing the results. Kidney filtration rates (GFR) are stabilized or improving, clients are reporting their A1C normalizing, and one client reported that while following the method for her husband's kidney disease, it has also helped to get her diabetes under control.
The success of the program stems from its high adaptability. The method can be used for any dietary changes that need to occur. In addition, CKD Culinary Consulting keeps client's success as their top priority by offering the necessary lifetime support, so patients have access to the help they need, and can secure assistance calls to assure their ongoing success.
The How to Eat for CKD Method™ (Complete Program Book) is reformatted and streamlined to utilize the quickest path to get patients eating safely. This format also follows the online class process. Clients will begin eating safely on day one and continue to bulid a customized meal plan to fit their specific needs, which can include all health issues, and family's needs as well.

They will be supplied clear and extensive information and the process that will lead them to a satisfying and enjoyable lifelong kidney lifestyle.
CKDelicious!™ Cookbook provides patients the opportunity to use the techniques from the program in combination with the cookbook to enjoy amazing meals they can adjust to their specific needs.
The Sad Truth: Too many kidney patients are struggling with the required dietary implementations. They find conflicting information, are unnecessarily told to avoid foods, and those who need to, or choose to be low carb, gluten free, dairy free, vegan, or vegetarian are struggling even more.
So, Linda is pioneering the way to a simplified kidney diet by showing patients precisely HOW TO implement those restrictive dietary changes safely and easily. She provides a highly detailed roadmap of real and reliable, how-to steps that guarantee success.
Her program, The How to Eat for CKD Method™, supplies every answer, and more. It provides the clarity patients crave. This method simplifies the kidney diet and puts patients on the path to a lifetime of successful CKD eating.
The kidney community is breathing a sigh of relief as they finally have the answers they've desperately needed for so long.
CKD Culinary Consulting was started by Linda Blaylock in Minneapolis, Minnesota in 2020 when the then-budding entrepreneur saw a need for a clear, reliable method to free kidney patients from their confusion, show them how to have their favorite foods, more variety, a simplified process, and show them how to successfully implement those dietary changes for life.
After her husband's diagnosis, they struggled with his diet and he despised being told he could not have foods the foods he treasured. This sparked a determination in her to figure out how to allow him to have them once again. She truly believed there had to be a way to work with any food, and she was right.
Linda is a Chef honors graduate of Aguste Escoffier Culinary School. ISSA® Certified Nutritionist, Certified Kidney Health Coach, Author, an Educational instructor, and a caregiver to her husband who has stage 3 kidney disease.
She was a culinary consultant for American Kidney Fund®, and many of her recipes are available on their Kidney Kitchen® website, she also provided many cooking demos, webinars, and educational content for their blog.
She has done informational webinars and cooking demonstrations for American Kidney Fund® and National Kidney Foundation®. She has been in Culinary Entrepreneurs® magazine, has worked with dieticians to further client's kidney diet success.
She has also taught educational classes in her local area, oversees three online support groups, and does informational guest spots and cooking demonstrations for medical professionals wanting to learn more about the method and recommending it to patients.
Her cookbook, CKDelicious!™ is available on Amazon.
About the Program...

Over the course of the program, patients will learn:
about the major nutrient players in CKD
general nutrient guidelines to follow until specific, personalized restriction numbers are received
tips to lower creatinine
all the various food groups, and many more that haven't considered, but need to b
how to use the comprehensive, categorized food reference sheets for quick and easy food choices and substitutions (over 25 food topics covered)
nearly impossible to find insider tips and information that most people don't know, but help to ease the stresses of CKD eating
the best resources to find accurate nutritional information for ingredients and products
how to create personal substitute food lists for quick, safe, and reliable ingredient swaps
revelations of new and different food options not previously considered
how to work the method for Vegan, Vegetarian, Gluten Free, Lower Carb, and Non-dairy too
bonus materials on safely keeping blood sugars up
access to the client only Support group
how to combine all dietary requirements stemming from other health issues
how to calculate nutrients and find missing nutrient amounts
how to calculate nutritional information for recipes
decoding nutrition labels and what ingredients to watch for (plus the guideline numbers to look for)
how to calculate the personalized base guideline meal and snack numbers, and safely leave room for snacks and desserts
how to shift those numbers and adjust meals when outside of their normal routine, like a family gathering or holidays
how to accurately menu plan to eliminate the daily food tracking
how to easily work within any budget
how to swap out ingredients quickly and easily for allergens, dislikes, and/or dietary preferences
how to tally a weekly menu and make quick changes to adhere to restrictions
how to get CKD organized
bonus cheat sheet grocery list
how to investigate and find the best products for CKD, and blow that "cooking from scratch" myth out of the water
how to be a detective when shopping, and how to shop quickly and effectively
how to cut food costs, what to do when an item is out of stock
bonus culinary info with an entire unit on seasoning, to help elevate flavors and textures for more enjoyment of meals. No more reliance on salt
how to use up leftover ingredients or meals, storage tips, and food safety
how to be prepared for those days when cooking just isn't happening
how to recreate those favorite fast foods at home to sever a reliance on them
time saving cooking tips and options to spend less time in the kitchen, especially for those who struggle to physically do so
how to manage holidays, dinning out, fast foods, and eating on the go
access to the insiders, client only Support group
PLUS:
top favorite bonus recipes and bundles that I created while working with American Kidney Fund®
plus, Linda's personal favorite recipes sprinkled throughout the program
lifetime support
access to additional invaluable resources
hope and confidence
easy, and stress-free kidney friendly eating
goodbye to confusion and frustration
made lasting, life-long changes to help slow or stop that progression
Top struggles as indicated by clients:
don't know what to safely eat
how to combine all dietary requirements from all health issues
how to eat / how to limit nutrients
lack of information / conflicting information
bland food / no enjoyment with eating
Safe meals and meal planning
food restrictions and not having foods they love
managing salt intake
being consistent or compliant with kidney friendly eating
*Please note that Linda does not create personalize menus. She teaches patients how to create their own!

CKD-ifying™ meals is her specialty.
CURRENT PROJECTS
Linda is currently working on her second cookbook.
She is actively bringing this life changing, life saving program to the attention of doctors and (eventually) insurance companies.
This should be placed into the hands of every person receiving a CKD diagnosis.
Visit her website for more information: howtoeatforckd.com